Centre of Science and Society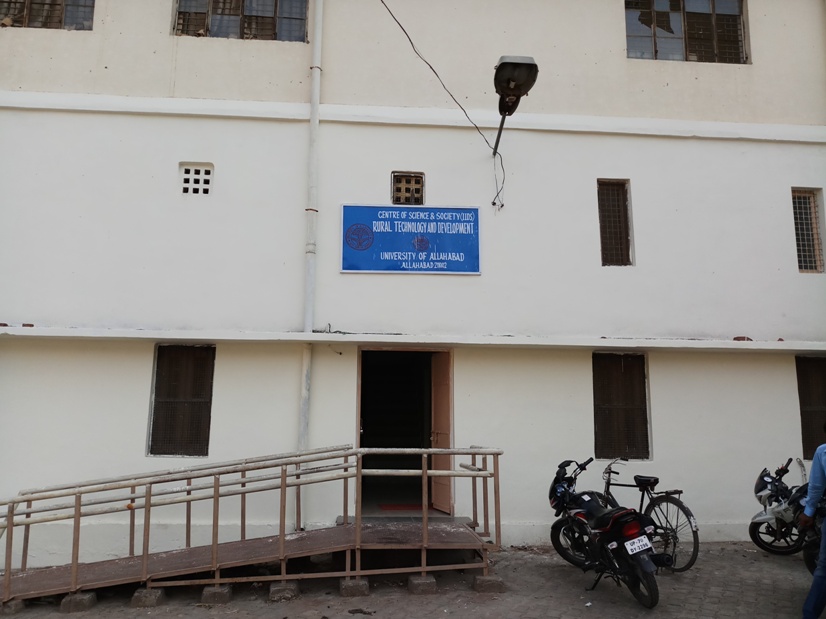 With the approval of Academic Council vide Resolution No. 43/22dt.19.5.2015 and Executive Council Resolution No. 03/32 dt.2.6.15 and subsequent office Memorandum No. Comm. Sec./5243/2015 dt. 22.08.2015, the green signal was provided to start the M.Sc. IV semester CBCS based course in Rural Technology and Development under Institute of Inter Disciplinary Studies (IIDS) by the University of Allahabad with intake of 15 seats. The course was inaugurated by the Hon'ble Justice M. C. Tripathi of Allahabad High Court in 2015-16 and first batch has come out very successfully in 2017.
The University took lead to translate the PURA (Providing Urban Amminities in Ruraral Area )of Dr APJ Kalam and its execution by PM Modi's Sansad Adarsh Gram Yojana by adopting Ramapur Village of Bahadurpur block in Phulpur Tehsil of Allahabad District. In 1st phase chakzhaura Moja purely SC populated with high percentage of Females have been selected by the University for their Upliftment.
In campus selection out of 14 interested candidates, 8 have been selected and well placed. It is also worth to mention that University of Allahabad has been identified as spoke partner of Design and Innovation Centre of IIT-BHU getting funds from MHRD. Further, the university approved the change of nomenclature from M.Sc. Rural Technology and Development to M.Sc. Design and Innovation in Rural Technology.