The Department of Arabic & Persian is an old as the Muir Central College, Allahabad itself. The renowned scholar Maulavi Zakaullah of Delhi had the honour to grace the chair as the first Head of Arabic and Persian Department. His ancestors were great scholars and had the opportunity to teach the Moghal Princess for many generations.
Maulavi Zakaullah's interest was not confined to the Oriental Languages alone. He was a versatile genius and a great scholar of Mathematics and Science. He has written 143 books on various subjects other than Arabic & Persian.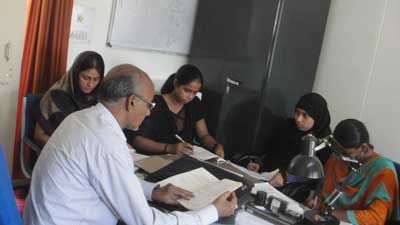 Maulavi Zakaullah was succeeded by Maulavi Amjad Ali who organized Arabic and Persian courses and examinations during his Headship. The Degrees of Maulavi, Alim, Munshi, Kamil and Fazil were being awarded by the University but later on the job of awarding these degrees was handed over to U.P. Government.
Maulavi Mohiuddin Jafari, Maulavi Mohd. Ali Nami and Maulavi Mahdi Hasan Nasiri were also teachers in the department. Besides, teaching Arabic and Persian Mohd Ali Nami could compose poetry in Persian, when a delegation of Iran visited this University in 1944 he welcomed the members of the delegation with his Persian poems.
In 1922 the University organized B.A. and M.A. courses in different subjects and made provision for conducting research. A galaxy of scholars were appointed in Arabic & Persian among whom Dr. A. S. Siddiqui, Dr. Zubaid Ahmad and Naimur Rahman are most important.
After India achieved independence, a high powered Arabic and Persian committee was constituted which was presided over by Hon'ble Maulana Abul Kalam Azad (Education Minister of India) and a few more renowned scholars who were nominated members of that body. Form Allahabad University Prof. Naimur Rahman and Prof. M.G. Zubaid Ahmad were nominated members of that body.
Dr. Zubaid Ahmad found an able successor in Dr. Saeed Hasan who was a man of varied abilities and served the University in a number of capacities.
Another renowned scholar of Persian Dr. Shabih Ahmad was also on the staff who is still remembered by his admirers.
Dr. M.A. Siddiqui succeeded Dr. Saeed Hasan. He was a studious man who wrote a number of books and articles.
Dr. M. A. Siddiqui was succeeded by Prof. M. Rafiq, a true scholar who laid great emphasis on the acquisition of knowledge and hard work than on merely passing examinations. Other teachers of the department were Prof. H. G. Murtaza, Prof. A. L. Al-Hindi, Mrs. Shabbir Fatimah, Mrs. U.K. Rizvi, Prof. Syed Tufail Ahmad etc.
The Govt. of Indian has been honouring prominent scholars of Arabic, Persian and Sanskrit on the eve of Independence Day each year. Prof. A. S. Siddiqui, Prof. M. A. Siddiqui, Prof. S.M.I. Nadvi, Prof. S. T. Ahmad and the present Head, Prof. Abdul Qadir Jafari are recipients of this prestigious National President Award. Prof. Jafari was felicitated by the Hon'ble Chancellor of on his first visit in 2006 also.
Apart form this the Department has produced a good member of distinguished Arabic and Persian scholars, administrators and diplomats who served and are serving in the country and abroad.