Visual Arts Department at present provides the following programmes:
Teaching - B, A, BFA 4 yr degree course; M.A. (Painting) 2 year, Diploma in Painting (2 year), Diploma in Applied Arts and Craft (2 year) for girls and D.Phil.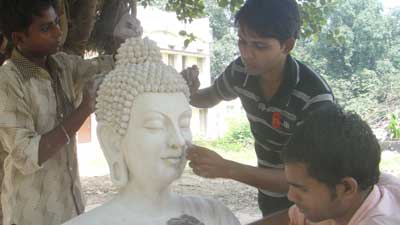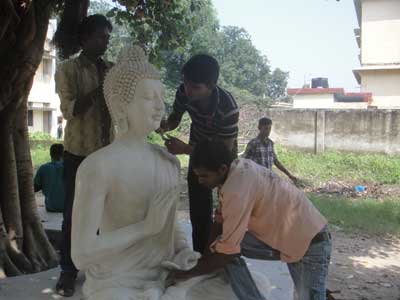 The teaching in Painting was started at the graduate level from the year 1977 and with its characterized status the teaching at the post-graduate (M, A) level was started from the year 1987 and BFA in 2001, achieved a new sense of determination and purpose of fulfilling the academic, social and national goal in the sphere of arts, culture and research. The Department of Visual Arts is stationed in the NRSC building in the main Senate House Campus of the University and has been well equipped with Lab. Library. In 1942 under the aegis of renewed artist Guru K. N. Majumdar a Painting section came into being for a Diploma Certificate Course in Painting and placed in the Darbhanga Hall and since then it flourished and established as a separate Department and introduced a good number of branches in the field of art and make students fully equipped for the competitive world.
The Department of Visual Arts with it inspiring spirit and endeavor has earned laurels of the high achievements by its Faculty. The subject enjoys great popularity and more meritorious, skilled students wish to join. The course structure provides encouragement to the aspirants of better achievement in the academic and research fields. The process of restructuring the courses of study takes place from time to time to develop qualitative and inter-disciplinary research, teaching and training with great potential. The academic atmosphere of the Department is strengthened by holding conferences, seminars, workshops, exhibitions, social meets and lectures by eminent expert artists etc. We are set to more upgrade the Department to its highest level.