19 August 2019
Head, Department of Home Science, AU:
Interview for Home Science CRET-2019 (Level-II) is scheduled to be held on August 20, 2019. Candidates have to report in the Department of Home Science, Faculty of Science, University of Allahabad at 10 A.M.
गृह विज्ञान

CRET-2019 (लेवल-II) के लिए साक्षात्कार दिनांक 20 अगस्त
, 2019 को निर्धारित किया गया है। अभ्यर्थियों को गृह विज्ञान विभाग, विज्ञान संकाय, इलाहाबाद विश्वविद्यालय में प्रात: 10 बजे रिपोर्ट करना है।
---
16 August 2019
Head, Department of Home Science. AU:
Home Science CRET (Level II) Interview on 20.08.2019
General (GEN) category candidates securing 192 marks and above, OBC with 169 marks and above, and SC with 159 marks and above should report for Home Science CRET-Level II interview for admission in Ph.D. program in the Department of Home Science on August 20, 2019 (Tuesday) at 10 A.M. Candidates are essentially required to bring a subject/research related power point presentation (Max 10-12 slides) of their own interest for presentation before the committee. Candidates are also required to bring all original documents along with two sets of photocopies and three photographs. Reserve category candidates are required to furnish recent computerized certificate of OBC and SC in support of their claim.
---
07 Jan 2019
Head, Department of Home Science, AU:
स्वच्छता प्रबंधन योजना पर, भारत सरकार के पर्यटन मंत्रालय द्वारा प्रायोजित ,होटल प्रबंधन और गृह विज्ञान विभाग, इलाहाबाद विश्वविद्यालय, प्रयागराज द्वारा आयोजित दो दिवसीय कार्यशाला का आज समापन हुआ। डॉ0 तरुण बंसल, नोडल ऑफिसर सैप ने अतिथियों को पुष्प-गुच्छ और शॉल देकर आमंत्रित किया। स्वागत भाषण में गृह विज्ञान विभाग की प्रमुख प्रो। संगीता श्रीवास्तव ने संबोधित किया। उन्होंने प्रयागराज में आगामी कुंभ पर सफाई पर जोर दिया। उन्होंने छात्रों को स्वच्छता बनाए रखने के लिए प्रतिज्ञा लेने के लिए भी कहा। कार्यशाला के दौरान, इलाहाबाद विश्वविद्यालय के गृह विज्ञान विभाग की डॉ नीतू मिश्रा एसोसिएट प्रोफेसर ने अपने व्याख्यान में कचरे को खत्म करने और खुले में शौच को खत्म करने पर ध्यान केंद्रित किया। उन्होंने कहा कि शहर में कुंभ के दौरान भारी संख्या में पर्यटकों को ले जाने के लिए उचित स्वच्छता सुविधाओं की आवश्यकता होती है। कार्यशाला में सफाई कर्मचारियों, होटल पेशेवरों, छात्रों, टूर ऑपरेटरों और टूर गाइड सहित समाज के सभी क्षेत्रों में प्रतिभागियों ने भाग लिया। कार्यशाला के दौरान डॉ। गौरव विशाल ने अपने व्याख्यान के दौरान स्वच्छता के रखरखाव पर ध्यान केंद्रित किया और स्वच्छता कार्य योजना पर सार्वजनिक जागरूकता कार्यक्रम की आवश्यकता पर बल दिया। उन्होंने स्वच्छता के संबंध में एक अच्छी पहल के लिए केंद्र सरकार की प्रशंसा की। डॉ। बंसल द्वारा वोट ऑफ थैंक्स दिया गया। उपस्थित लोगों में गृह विज्ञान और खाद्य प्रौद्योगिकी विभाग के संकाय, डॉ संगीता श्रीवास्तव, डॉ नीतू मिश्रा और डॉ तरुण कुमार बंसल, डॉ गौरव विशाल शामिल थे।
---
19 Nov 2018
Head, Department of Home Science, AU
CRET 2018-19 Result
| | | | | | | |
| --- | --- | --- | --- | --- | --- | --- |
| S.No | Roll No. | Name | Father's Name | NET/JRF | Supervisor | Aggregate Marks |
| 1 | 901396 | Vandana Shukla | Mr. Ram Swaroop Tiwari | - | Prof.S. Srivastava | 37 |
| 2 | 901378 | Itee Ojha | Mr. Keshi Ojha | - | Prof.S. Srivastava | 36 |
---
23 Oct 2018
Head, Department of Home Science
CRET interview of Home Science will be held at 11:00 A.M. on 24th October 2018 in the chamber of Head, Department of Home Science. Candidates are required to be present before the DPC along with their synopsis. Reporting time for the candidates is 10 A. M. sharp.
---
20 August 2018
Head, Department of Home Science, University of Allahabad
Department of Home Science, University of Allahabad, organized Guest lecture on topic"Mental Diseases" in conference room on 20th

August 2018

,

Monday

. The speaker for the lecture was Dr. Anurag Verma, MBBS, MD, FIPS Psychiatry, working as Consultant Psychiatrist, MotiLal Nehru, Medical College, Allahabad. The head of the department Prof. Sangita Srivastava, all Faculty members and research scholars attended the lecture. Dr. Verma has given an enlightening lecture on "Mental Diseases". In his lecture he discussed about common types of mental diseases, causes, manifestations, prognosis and management.

Today

prevalence of mental diseases increasing rapidly and it affects all age groups including, teenager, adult and children each year said Dr. Verma. Mental illness is a physical illness of brain that disturbs thinking, behaviour, energy or emotion that make it difficult to cope with ordinary demand of life and interfere with the daily life activities. In our day to day life we come across stress, it put negative impact on our mind but daily stress and no self-attention lead to psychological imbalance, people often doesn't realize how mentally unwell they are Dr. Verma added. He enlisted most common types of mental illness these are clinical depressions, anxiety/panic disorder, bipolar disorder, suicidal feelings, self-harm, post-traumatic stress disorder etc.The complicated causes of mental illness can be due to genetics, brain chemistry, experiencing trauma, work related stress, failure in life, etc. He further elaborated manifestation of mental illness, which includes persistence felling of sadness, loss of appetite, insomnia, low energy, fatigue, repeatedly going over thoughts, loss of self-confidence and suicidal thoughts. He said that if you feel any of the conditions as mentioned, needs to be addressed before these start affecting your overall health. If we detect it timely we can intervene to reduce intensity and frequency of symptoms he said. He further suggested the prognosis and management of mental illness and the key points to cope up with it like, cognitive behaviour therapy, daily physical exercise, be socially connected, share your joy and burdens with friends and family, keep taking hobbies, be positive in thinking, healthy diet, learn from your failure. After attending this lecture we get to know more about mental diseases its root causes and how to manage stress. Think positive and think impossible to possible was the motivational word we learned from the session it helps us gain lots of confidence. "
"
मानसिक
बीमारियों " पर अतिथि व्याख्यान गृह विज्ञान विभाग, इलाहाबाद
इलाहाबाद विश्वविद्यालय के गृह विज्ञान विभाग ने "
मा
नसिक बीमारियाॅं " विषय पर 20 अगस्त 2018 को अतिथि व्याख्यान का आयोजन किया । यह व्याख्यान मोतीलाल नेहरू मेडिकल कालेज में कार्यरत, डाॅ अनुराग वर्मा ने दिया। डाॅ वर्मा एम0बी0बी0एस0,एम0डी0,
FIPS Psychiatrist
है और एक
Consultant Psychiatrist
के तौर पर काम करते हैं। विभागाध्यक्षा प्रो0 संगीता श्रीवास्तव समस्त शिक्षणगण एवं शोध छात्रों ने व्याख्यान में भाग लिया । डा0 वर्मा द्वारा दिया गया व्याख्यान बहुत ही शिक्षाप्रद था।अपने व्याख्यान में उन्होने आम तौर पर होने वाली मानसिक बीमारियो उनके कारण, अभिव्यक्ति,निदान एवंउसके प्रबन्ध पर विचार विमर्श किया। आज के दौर में मानसिक बीमारियो का प्रसार बहुत तेजी से हो रहा है,और इसने बच्चो वयस्क, किशोर ,हर वर्ग के लोगो को प्रभावित किया है। डा0 वर्मा ने कहा कि मानसिक बीमारी हमारे सोचने की क्षमता, व्यवहार,उर्जा और भावनात्मक क्षमता को परेशानी में डालती है। और हम अपनी रोजमर्रा की जिन्दगी का ठीक तरह से सामना नही कर पाते। तनाव का हमारे दिमाग पर नकारात्मक प्रभाव पडता है परन्तु तनाव रोज हो तो मनोवैज्ञानिक असंतुलन हो सकता है। डांॅ0 वर्मा ने आम जिन्दगी में होने वाली मानसिक बीमारियों जैसे डिप्रेशन, चिन्ता, एंग्जाएटी डिसआर्डर,बाईपोलर डिसआर्डर,आमहत्या की भावना आना, स्वंय को नुकसान पहुचाना, पोस्ट ट्ामैटिक डिसआर्डर इत्यादि के बारे में चर्चा की । मानसिक बीमारी के जटिल कारण जैसे जेनेटिक्स, ब्रेन कैमेस्ट्ी ट्ामा का अनुभव करना,काम से सम्बन्धित तनाव इत्यादि हो सकते है। उन्होने व्याख्यान आगे बढाते हुए कहा कि मानसिक बीमारियों की अभिव्यक्ति मे शमिल है -ः उदासी होना, भूख न लगना, नीद न आना, थकान का अनुभव करना ,आत्मविश्वास की कमी होना आत्महत्या की भवना आना। उन्होने कहा कि अगर केाई व्यक्ति उपरोक्त लिखित किसी भी लक्षण का अनुभव करे तो तुरंत डाॅक्टर की सलाह लेनी चाहिए अन्यथा हमारे स्वस्थ्य पर इसका बहुत बुरा प्रभाव पडेगा। अगर हम समय रहते इन बीमारियों का पता लगा ले तो हम इनके लक्षणों की तीव्रता में कमी ला सकते है। उन्होने सुझाव दिया कि मानसिक बीमारियों का निदान और उनका उचित प्रबंध निम्नलिखित तरीको से किया जा सकता है- कागॅनिटिव बिहेवियर थेरेपी, रोजाना व्यायाम करना, सामाजिक रूप से एक से एक दूसरे से जुडे होना, अपनी खुशियाॅं और गम परिवार एवं दोस्तो के साथ बाॅटना, सकारात्मक सोच रखना, पोषक भोजन करना, अपनी गलतियोंसे सीखना इत्यादि। यह व्याख्यान सुनने के बाद सबने मानसिक बीमारियाॅं,उनके मूल कारण एवं तनाव से बचने के उपायो के बारे में जाना।
---
16 July 2018
Head, Department of Home Science, AU:
University of allahabad will conduct counseling for M.Sc. in Textile & Apparel Designing for merit list candidates from

July 18

th and 19th ,2018 at 10:00am and for wait list candidates on

July 20

th ,2018 at 10:00am in the Department of Home Science, Faculty of Science, Au: Merit list Marks: General Category (159 to 98), OBC: (95.50 TO 72), SC Category (57 to 46). Wait llist marks: General category (96 to 70.78), OBC Category (66.50 to 25.50)
---
January 09, 2016
Head, Home Science, UoA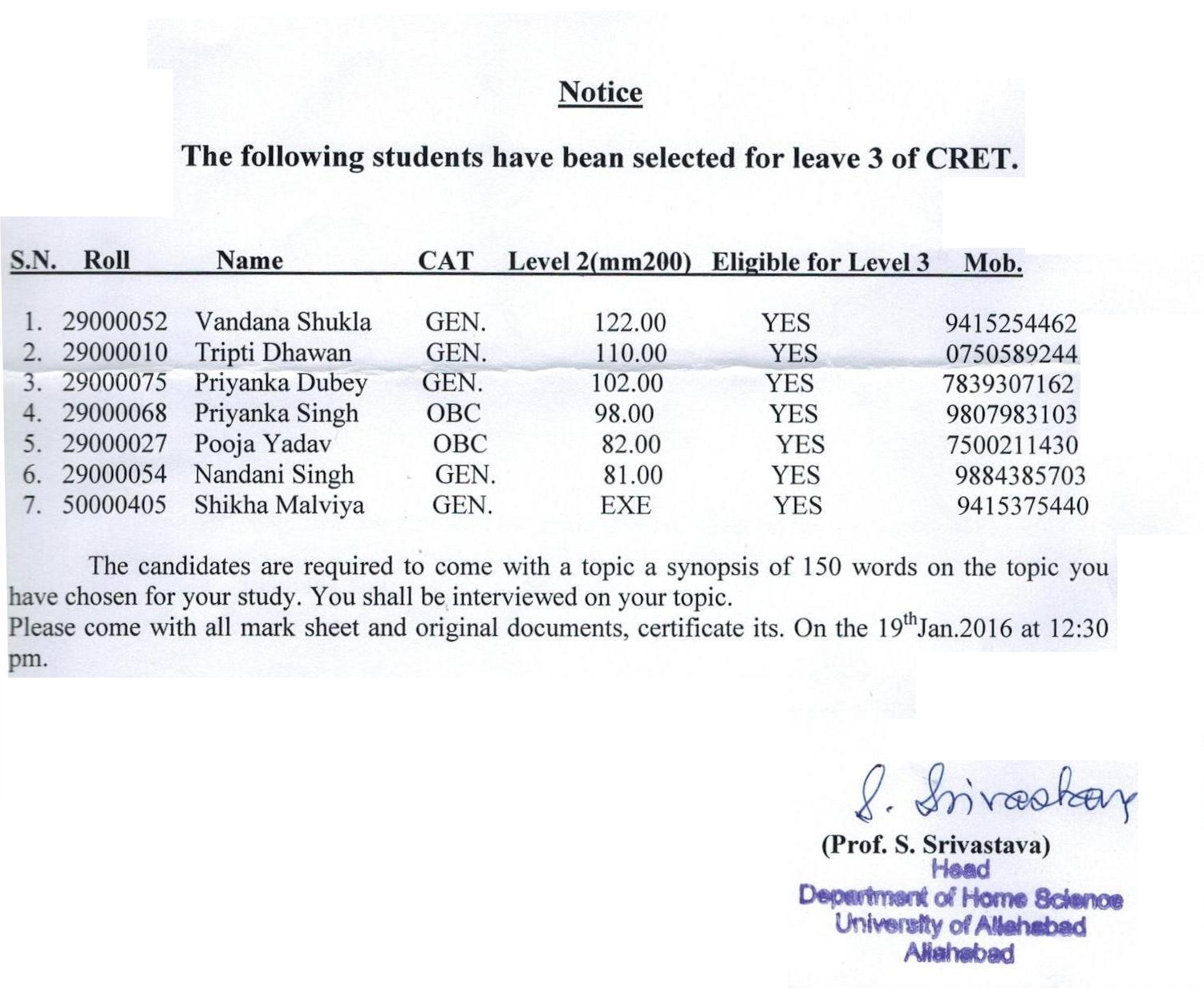 ---
Home Science Mela
An awareness programme is being organized by the Home Science Association of the Home Science Department, on the 13th and 14th of February 2014 University of Allahabad. This has been conceptualized to bring awareness in the community abut various aspects of community life. It's a social marketing strategy to enhance the standard of living of the family by providing useful information on health, hygiene, energy saving and ideas to improve aesthetics so that life could be better for all human beings.
Food and its impact on health

Dietary counselling on various chronic diseases and viral diseases.

How to simplify work and manage energy and maintain life work balance

Counselling on how to look and dress

Counselling on family problems and gender discrimination.

Counselling on gender discrimination and domestic violence

The importance of good aesthetics and interior decoration
The programme has one Power Point presentation on each topic and is supported with folders and advice by a team of experts in the field.